Shopping Cart
Your Cart is Empty
Thank you for your business!
You should be receiving an order confirmation from Paypal shortly.
Exit Shopping Cart
SAFETY TRAINING FOR THE NEXT GENERATION

CUSTOM ​SAFETY TRAINING COURSES
COVID-19 has made the process of how to get staff properly trained a little more difficult; however the need for training still exists.
​
Not sure how to make sure that your staff is getting the safety training that they need; send us a note with what you require and we can work on a custom option for you.

Our flexibility allows for custom materials and variations on training delivery such as online, remote learning options, evenings and weekends, all to make sure that your staff stays up to date with their safety requirements regardless of what the current restrictions are.
Virtual Reality and COVID-19


Virtual Workplace - Real Experience
Training that was designed to take the hazards out of high-risk activities can also help you train your operators in a post COVID-19 workplace.
Using this technology, we are able to train people in a fast and effective way while keeping physical distancing in mind, you can even refresh the skills of operator who have been off work for awhile before they get back on the forklift.
In the post COVID-19 era, we may not be able to have face to face training scenarios or group classroom theory courses as readily available.

Using the Real-Forklift simulator, candidate operators can take the theory behind forklift operation; and even log hours behind the wheel; all while sitting at home or in an area of the workplace that is set up for minimal interactions.
The COMMAND POST application; downloaded onto a smart device or tablet and used in conjunction with the simulator(s); provides key data enabling post-training assessment and allows for identification of any mistakes made during simulation.
Is your company ready to pivot with the change to the NEW global landscape?
If you want more information on how Fēnix can help you to take advantage of this technology to rebuild or enhance your workforce please contact us at any time.

Theory component?....of course!

Lesson101 - Main Components, Driving Controls, Lifting Controls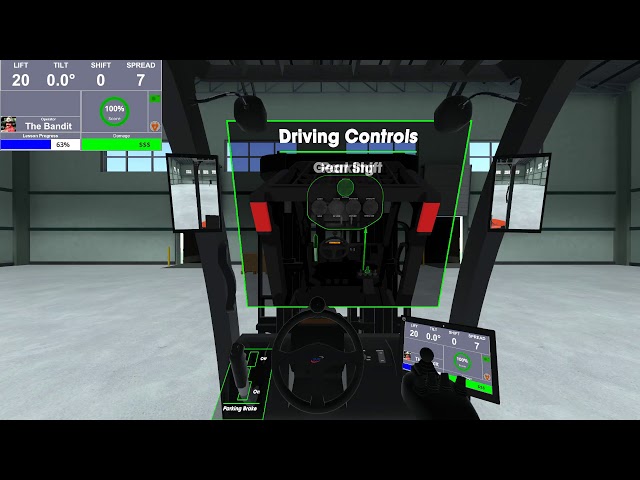 /